Summer Community Reunion – »How's Life & Work Going, Friends?«
02.09.2023, 15:00, Tempelhofer Feld, Berlin
You are warmly invited to join our Summer Community Reunion over good food, music, and games! Bring some food from back home to share with friends, family, and fellow migrants and organizers. Childcare will be provided!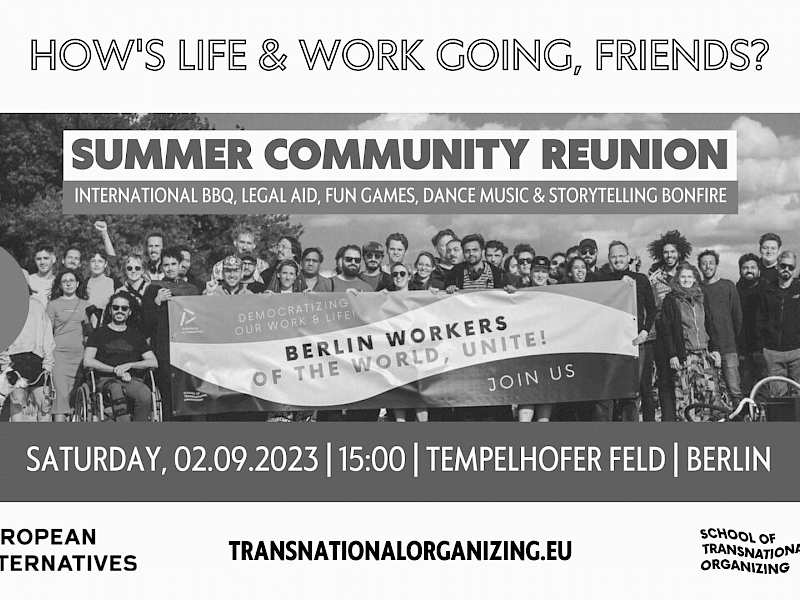 Participants are warmly invited to...
Contribute

soul food from back home to the international BBQ & buffet

made by fellow Berliners from around the world;
Connect with legal counsellors and community organizers specialized in labour and migration issues from grassroots collectives and partner initiatives;
Relax, listen to music, share stories, and play games with community members;
Get a bigger picture of our diverse political needs and the many existing groups, as well as the ways to get involved here in Berlin;
Bring

family, friends, co-workers, kids... childcare will be provided!

The more the merrier!
You will find us from 15:00 at Grillplatz Ost at Tempelhofer Feld:
Schedule
15:00 – Arrival - Firing up the BBQ, Enjoying Food and Drinks!
15:30 – Welcoming Moment by the School of Transnational Organizing
16:00 – Berliner Beratungszentrum für Migration und Gute Arbeit (BEMA), the Berlin Worker Center, and Centro de Educación Popular Lohana Berkins (CEP) host informational stands on picnic blankets. Stop by to learn more about these initiatives, the resources they can offer, and opportunities to connect!
19:00 – DJ Set by Gabriella Leyton Rodríguez
22:00 – Farewells and Clean-up
Please note: the Childcare Section will be open from 15:00 until 19:00, through advanced registration only.
Partners
BEMA – Berliner Beratungszentrum für Migration und Gute Arbeit
About the School of Transnational Organizing
European Alternatives' Berlin Hub is running the »School of Transnational Organizing«. A grassroots school where everyday people, social movement builders, trade union organizers, migrant workers, climate justice activists, community artists as well as marginalized communities meet to learn the tools and skills to master the lost art of organizing solidarity and together shape the landscape of what we think is possible.
We create brave spaces involving different people: allowing us to overcome the deep sense of powerlessness many of us share and enabling people "to turn the resources they have into the power they need to make the change they want" (Marshall Ganz). With a wide community of trainers, facilitators, and educators, we inspire, train, and support new popular pioneers, organisations, and movements to lead more hopeful, more joyful, and more powerful struggles in their countries, cities, and communities.
Learn more: www.transnationalorganizing.eu
Join our Progressive Community of Transnationalists
Are you a progressive activist, worker, academic, organizer, or artist? Are you part of a grassroots initiative, civil society organisation or social movement? Across borders, citizens in communities and cities build a new world of solidarity and justice.
Join us: www.transnationalorganizing.eu/join